Artists in Schools
Think 360 Arts tailors performances, workshops, and residencies to complement classroom curriculum while engaging students in interactive, fun, and creative activities.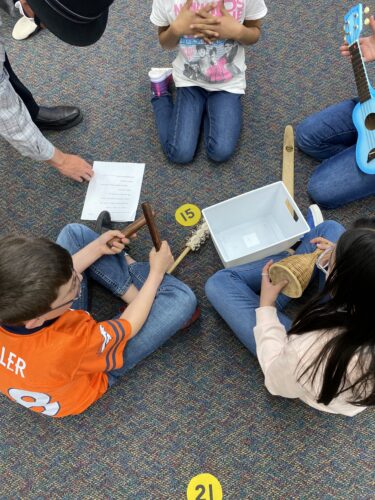 Think 360 Arts supports, trains, and collaborates with hundreds of Colorado educators every year. In addition to offering programs for K-12 students, we also provide teachers with hands-on experiences in various arts disciplines that demonstrate how they can connect the arts to their own content area in ways that address higher order thinking, innovation, and increased engagement in the classroom for all. Think 360 Arts staff can also help you craft programming to support social emotional learning.
Think 360 Arts is a resource for teachers looking for more information on integrating arts in the classroom and how to book a teaching artist at their school. Subsidies, such as our annual CAP Grants, are available.
Learn more about what we offer to Colorado educators:
Think 360 Arts Educational Performances are focused, creative 45-50 minute artistic experiences that go beyond the traditional assembly program or concert. We carefully select our artists who have the demonstrated ability to develop age and curriculum–appropriate programs that engage, involve, and delight both students and teachers. Pricing for educational performances is set by the artists. To get a quote for a performance at your school, complete a program inquiry form.
Our artists can design a single or double workshop that ties into your curricular goals, complements the work being done in the classroom and engages children in interactive, fun and creative activities. Like residencies, these programs can take place during the school day or during out-of-school time, and Think 360 Arts will work with you to design a single or double workshop that fits your schedule and budget. Each workshop generally lasts between 50-60 minutes. Fees for both single and double workshops are determined by the artist. To get a quote for a workshop at your school, complete a program inquiry form.
During a residency program, Think 360 Arts and a resident artist work with educators to tailor workshops for ages Pre-K-12 that address curricular goals, state standards and 21st century learning skills. Think 360 residency programs are designed to integrate work of a chosen arts discipline with a variety of educational aims, and artists work together with educators in program design and implementation. To get a quote for a residency at your school, complete a program inquiry form.
Frequently Asked Questions