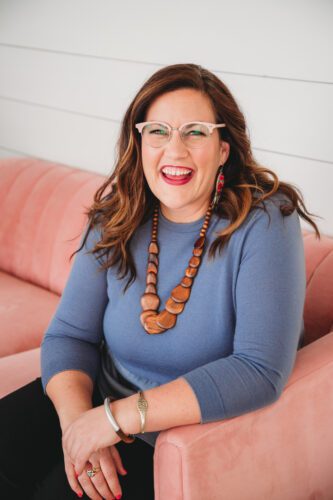 Andrea is a social artist and community organizer. Her work explores themes of social and cultural belonging, incorporating writing, performance, and installation art. In the classroom, Andrea uses creative writing, performance, public speaking, subversive art, and theatre to help empower students to creatively express their authentic point of view.
Andrea celebrates difference and practices mutual aid, and she brings this experience to bear in all her pursuits. Informed by two decades of experience working in the disability community, Andrea's approach is inclusive and accessible. She is the co-founder and former Executive Director of The Wayfaring Band, a Denver-based nonprofit that serves people with intellectual and developmental disabilities. Andrea has collaborated with people from other historically excluded groups, including immigrant communities, people living in poverty, incarcerated people, and BIPOC-majority communities. Andrea is committed to being a lifelong learner and action-taker in the area of anti-racism.
Andrea offers professional development in the areas of arts integration, cultural responsiveness, and diversity, equity, inclusion, and accessibility. Andrea offers strategies to help teachers connect with students from a posture of authenticity and humility. She provides curriculum ideas, team-building activities, and creative strategies to help reinvigorate the classroom, infusing environments with discovery, curiosity, and creativity.
Andrea was featured by Westword magazine as part of their 100 Colorado Creatives series, and she was the inaugural recipient of the Judy Anderson Founders Award. Under Andrea's leadership, The Wayfaring Band received the Mayor's Diversity and Inclusion Award in 2018.