News
2022-2023 CAP Grants Winners Announced!
Think 360 Arts for Learning & Colorado Creative Industries Announce The Colorado Arts Partnership (CAP) Grants Recipients for 2022-2023 Cycle
DENVER – DECEMBER 12, 2022 – Think 360 Arts for Learning and Colorado Creative Industries, a division of the Office of Economic Development and International Trade, announce the Colorado Arts Partnership (CAP) Grants recipients for the 2022-2023 cycle. CAP Grants support Colorado schools in executing innovation and creativity surrounding their arts in education programs, and they support Colorado artists and arts education organizations through collaboration with schools. In total, Think 360 Arts and Colorado Creative Industries are awarding $45,000 this program year.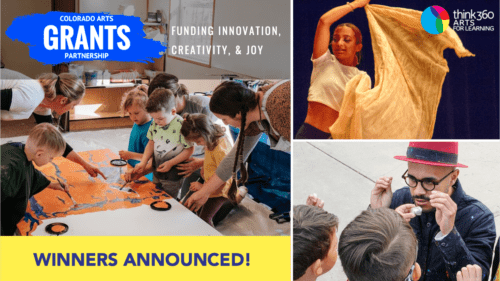 2022-2023 CAP Grant Award Winners
Charles Burrell Visual and Performing Arts School, Aurora Public Schools, Arapahoe County
Federal Heights Elementary, Adams 12 Five Star Schools, Adams County
Fort Morgan High School, Morgan County School District RE-3, Morgan County
Kunsmiller Creative Arts Academy, Denver Public Schools, Denver County
Laurel Elementary, Poudre School District, Larimer County
North Fork School of Integrated Studies, Delta County School District, Delta County
Pinnacle Charter School, Adams 12 Five Star Schools/Charter School Institute District, Adams County
Sagebrush Elementary School, Cherry Creek School District, Arapahoe County
STEM Launch K-8, Adams 12 Five Star Schools, Adams County
Sunset Middle School, St. Vrain Valley School District, Boulder County
The Hub Therapeutic Day School, Durango School District 9-R, La Plata County
In 2014, Colorado Creative Industries and Think 360 Arts for Learning joined forces to launch a new collaborative grant-making program: Colorado Arts Partnership (CAP) Grants. Funded by Colorado Creative Industries, and the National Endowment for the Arts, CAP Grants are developed with several goals in mind: accessibility, building community connections, leveraging school investment, and visibility.
Colorado schools serving PK-12 students have the exclusive opportunity to receive funding that supplements and supports arts instruction for students during the school day. Schools apply for funding for a wide variety of projects including, but not limited to: arts days, installation projects, performing arts productions, and artist residencies. For the last six CAP Grant cycles more than 100 schools have been served.
About Colorado Creative Industries
Colorado's Creative Industries Division, Colorado's state arts agency, is a division of the Office of Economic Development and International Trade. Established to capitalize on the immense potential of our creative sector to enhance economic growth in Colorado, the mission statement for the Colorado Creative Industries, "to promote, support and expand the creative industries to drive Colorado's economy, grow jobs and enhance our quality of life."
About Think 360 Arts for Learning
Think 360 Arts is a leading provider of arts education programs and services in Colorado. Think 360 Arts serves Coloradans of all ages through teaching artist workshops and residencies, direct services in the classroom, teacher training, professional development, early childhood education, and community programs. Through our work, Think 360 Arts is committed to ensuring all communities can experience the transformative benefits of arts education. Think 360 Arts is an independent affiliate of Young Audiences and an affiliate of Wolf Trap Institute for Early Learning Through the Arts. For more information, please visit www.think360arts.org.
About National Endowment for the Arts
Established by Congress in 1965, the NEA is the independent federal agency who's funding and support gives Americans the opportunity to participate in the arts, exercise their imaginations, and develop their creative capacities. Through partnerships with state arts agencies, local leaders, other federal agencies, and the philanthropic sector, the NEA supports arts learning, affirms and celebrates America's rich and diverse cultural heritage, and extends its work to promote equal access to the arts in every community across America. Visit arts.gov to learn more about NEA.
Contact: Think 360 Arts for Learning, Alex Oves + 1-720-904-8890 x 101 or alex@think360arts.org