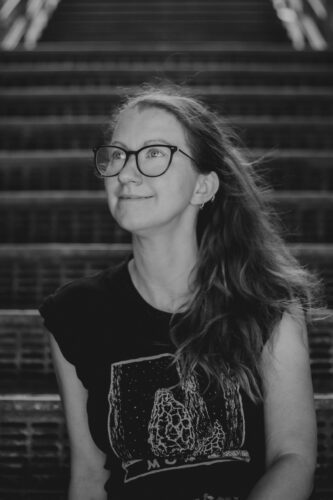 Nicole Banowetz is a professional artist working in sculpture, design, installation, and education. She has taught art workshops and youth training programs for over 15 years. Nicole's workshops range in subject matter and media because she enjoys designing specific programs with each school she collaborates with. She has taught workshops with youth in inflatable sculpture, soft sculpture, site specific installation, found object assemblages, mosaics, product design, puppets, wearable sculptures, STEAM subjects, and much more. Nicole believes that art is a powerful problem solving and empowerment tool for youth. The creation of art teaches students how to manipulate materials and achieve satisfying results. Students learn to use their artistic process to communicate ideas about their emotions, personalities, and their communities.
In Nicole's personal artwork she creates sewn inflatable sculptures. Nicole's work is inspired by the natural world. She addresses human qualities while using the imagery she finds in the animal, plant, mineral, and bacterial worlds. She has made installations inspired by bacteria, parasitic fungus, viruses, radiolaria, rotifers, horses, and rhinos. She designs and sews all these forms on her sewing machine.
Nicole has lived and worked internationally creating and / or showing work in India, Italy, Ireland, Russia, Germany, Sweden, Poland, Taiwan, Finland, the Netherlands, China, and England. She has also created large scale mosaic work in Chandigarh, India at Nek Chand's Fantasy Rock Garden.