Kristina Maldonado Bad Hand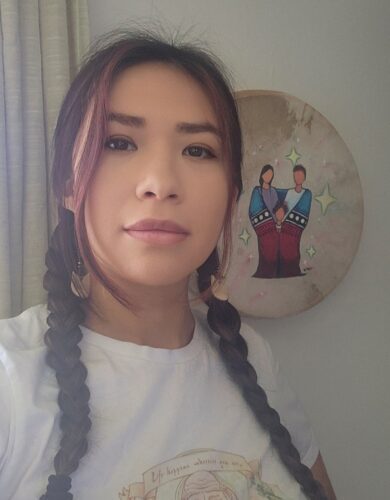 Kristina Maldonado Bad Hand is a Sicangu Lakota and Cherokee artist that hails from Taos, New Mexico. Her passion for community and social justice has led her to speak on matters of equality and cultural representation in pop culture. She is a graphic designer, illustrator, comic creator, and former co-chair of the Denver American Indian Commission. She has 10 years of experience in after-school and summer programs. Most notably for her work with Pop Culture Classroom in their comic-based literacy curriculum; as a community and OBH liaison with the Jeffco Indian Education Program, and as a Think 360 Artist for her SEL lessons through design and pop culture.
Recently she has transitioned into working with the Denver Art Museum as the Creative and Public Engagement Fellow, working with the Creative in Residence and the Native Artists in Residence programs. Kristina grew up traveling, singing and dancing with her family at powwows. She spent most of her high school career independently experimenting with mixed media, participating in youth art shows, painting murals and doing set design for her high school drama class. She entered the realm of comic and book illustration in 2013 and has been published several times since. She remains strongly connected to her artistic network and community and can be found helping out with special events and story-based learning projects.