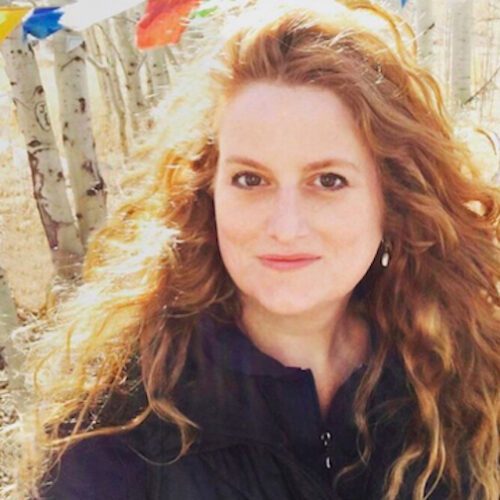 Emily vonSwearingen specializes in integrative learning, sensory engagement and in adapting materials, tools and teaching methods to be accessible and inclusive for people of all ages and abilities. She offers extensive experience in creating visual art and music-based programs for people with disabilities, at-risk youth and marginalized groups. She works with a variety of mixed and multi-media including 3-D, sculpture, ceramics, fiber arts, weaving, tactile collage, recycle/upcycle art, cultural art, nature art, painting, photography and video. She plays a diverse array of percussion sound makers, cultural drums, Indigenous style flutes and stringed instruments from around the world.

Emily's interactive music and sound story sessions directly engage students in playing eclectic instruments to create non-narrative stories and include immersive "sound bathing" and group drumming circles to nurture socio-emotional learning. She also conducts workshops in creating frame drums and percussion instruments from natural and recycled materials and carving Native American styles flutes in cedar wood (and teaches how to play them!). Emily is a certified Sound Healer and certified Nature and Forest Therapy guide offering immersive nature and "forest bathing" sessions based on the Japanese principles of Shinrin-Yoku.
Her diverse history includes founding the Artist in Residency program at the former Denver Children's Hospital and collaborating with over 71 schools and numerous organizations. She has been awarded multiple times as an individual artist including Denver Arts and Venues, Imagine 2020, the Colorado Arts Partnership, Arts in Society and Colorado YouthReach to create innovative arts projects and public art.